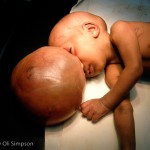 On October 6, 2007, the day we arrived in Nalerigu, we were told about an amazing surgery Dr. Faile had performed that evening.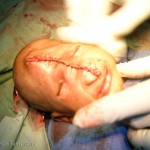 A Fulani family with no money sought treatment in Accra for a large anterior meningocele (a form of spina bifida) which extended from the midline of the child's face. The family couldn't afford the (approximately) $100 fees for tests, so they traveled north to Nalerigu where they had heard an American doctor was working.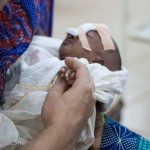 Dr. Faile prayed about the surgery, agreed to try and did his best. There was only fluid in the sac and no nervous tissue.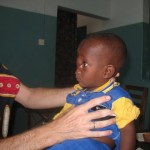 The baby recovered miraculously well from surgery, and was discharged a week later.
The family did not return for follow-up until 6 months later. Dr. Hewitt emailed ups this last photo from the child's checkup. I know that it was a great encouragement for Dr. Faile to finally have follow-up on such a rare and risky operation.