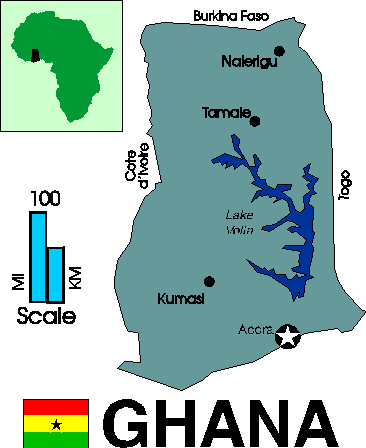 Ghana (formerly known as Gold Coast) is a country in West Africa bordering Ivory Coast (where William grew up) on the east. The official language in Ghana is English, however there are over 50 different languages spoken throughout.
Nalerigu is a small town located in the northeast corner of Ghana. The main people group in the area is the Mamprusi who speak the language Mampruli.
The town of Nalerigu in the North East Region is an ideal location for a hospital because it is near the borders of Burkina Faso (to the north) and Togo (to the east). Some patients travel many miles from those countries to seek medical attention at the Baptist Medical Centre.
Most volunteers travel to Nalerigu by flying into Accra (Ghana's capitol) then flying to Tamale (Ghana's 3rd largest city, located in the north) and then drive 2.5 hours to Nalerigu. It is also possible to fly into Ouagadougou (capital of Burkina Faso) and drive southeast to Nalerigu, but this drive can take 6+ hours due to the border crossing.