During the week long celebration of BMC's 50th anniversary there were several dances that were held. One dance was called "Damba" which refers to the annual festival during with the dance is typically performed. The Damba festival celebrates the arrival of the first Mamprusi king.
The dance goes a bit like this… Drummers call a dancer out by approaching him and drumming at him. Most of the dance moves revolve around the dancer's footwork and he does a sort of stuttered strut to the rhythm. Gradually, the dancer's moves pick up speed and he spins around causing his smock to fly out. Sometimes as he spins he leans forward and the smock twirls like a pinwheel, perpendicular to the ground.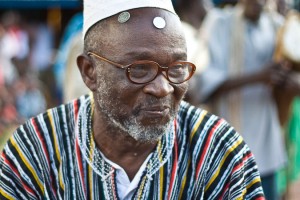 If a dancer performs well, individuals from the audience come forward and place coins and bills on the sweaty dancer's head. The dance may also approach the "wealthier" audience members to solicit funds from them.
I took some photos last week of the dance but didn't post them. Now I've managed to get some video clips up to complement them. You can get a better sense of how the dance goes and what the drumming is like now. Go ahead, get up from your computer desk and dance along!
Damba Dance Videos
Photos