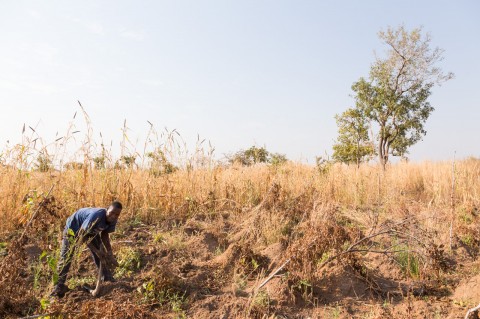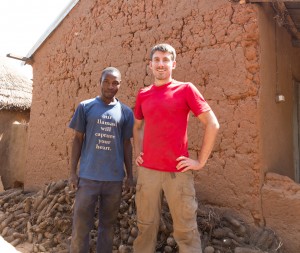 Mejida is a young man that has helped us with yard work around the house since we arrived in October. He works off and on at the hospital in the Accounts Dept and when he has time (and needs money) he comes by to do odd jobs. Usually we have grass to mow, hedges to trim, or general clean up that he can help out with.
Last week he came by and instead of asking for work he asked for a favor. Would I be willing to drive my truck to his field after he harvests all his yams and haul them back? I decided to one up him and offered to also help him harvest. He seemed a bit skeptical but I assured him I was up to the task.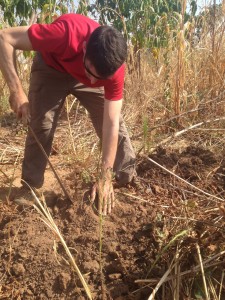 The next morning at 6AM we headed out, stopped to pick up two his nephews and to greet the chief that lets him farm the land, and then we began digging up yams. He had already worked all of Friday on his own and had done half the field. Together we finished the rest of the field in about 6 hours. It was a brutal six hours of hard work in full sun with the temperature over 120 degrees (101 in the shade). I was filthy (one of the boys commented that my skin was turning into a black man's) and my hands were all cut up from the spiky yam roots.
Each yam is planted in a mound of dirt with the vine growing out the top. Using a small hoe you dig around the circumference of the mound and then in towards the center where the yam(s) are. Then you dig out, pull out and shake out the clump off yams by hand. Here's a video clip of Mejida doing just that: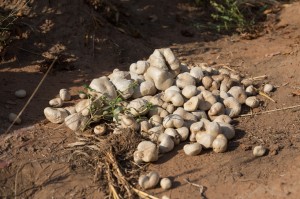 We ended up filling my truck bed with yams, drove back to Nalerigu and unloaded them at his family's compound. Mejida was quite pleased with harvest saying it was "more plenty than last year." He gave me an appreciation gift of sweet potatoes and some of the yams.
In some of the mounds he also planted air potatoes with the yams. This variety of yam grows above ground on a vine and its flesh is colored like American sweet potatoes. Interestingly, the species was brought to the Florida in the early 1900s and became a vicious invasive species.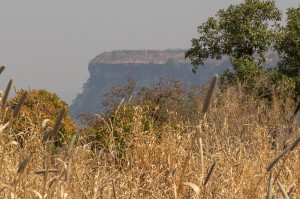 Another cool thing I saw on this outing was the escarpment. I have visited the cliffs east of Nalerigu at Nakpanduri but I had seen on Google satellite imagery that it extends north of us and wanted to go there. Now I have a better idea of how to get to it from our house. From the edge of the cliff we should be able to look down to the White Volta River. One of my goals is to scale the cliffs down the river – locals have told me it can be done if you go to the right spots.